ORGANIZATIONAL DEVELOPMENT + DIVERSITY AND INCLUSION FOR HIGH-PERFORMANCE TEAMS
Social impact practitioners are consistently overwhelmed, burning out, and prone to the existential crisis endemic in the mental and emotional load of facing society's biggest problems. In a recent Deloitte survey, 87 percent of professionals expressed passion for their current job but 64 percent say they are frequently stressed and 77% experience burnout. Facing society's biggest problems provokes fear and grief, which shows up as conflict, attrition, and self-sabotage within leaders and on teams.
Additionally, the diversity of experience and thought required to design solutions that work for all is simple to advocate for in rhetoric and very hard to maintain in practice. Diversity of thought means exposing and challenging our assumptions, diversity of experience means challenging the beliefs that form our identities. This is difficult work that often provokes our resistance. Much of the time this resistance is subconscious, and in the workplace reveals itself indirectly through employee relationships and workplace structures. This can look like inequitable decision-making, poorly structured and facilitated meetings, unconsciously culturally-biased management practices, breakage of conflict navigation processes being underutilized, and other operational structures.
These capacity drains within teams sacrifice vital productivity and innovation - which current times of VUCA (volatility, uncertainty, complexity and ambiguity) and change require.
Building a diverse, high performing team and strong company culture requires:
frequent and high candor feedback
psychological safety that translates to vulnerable, trusting relationships
a "higher purpose" that calls people into their best selves, inspiration and grit during times of conflict and change
rigorous attention to history and ways that systemic discrimination and power dynamics play into distribution of resources
Organizations and businesses need solutions that mitigate the common problems that arise from over-focus on any one of these characteristics. Many of our colleagues and our own team have experienced the downsides of being too focused on vision at the expense of historical insight, and vice versa. We can enable destructive power dynamics in the drive toward an "innovation environment", and we can be laser-focused on creating equity in ways that decrease joy and sacrifice goodwill. These common problems exist in both the leadership/culture development sector and in diversity/inclusion consulting.
Soil and Shadow's Framework for Inclusive Leadership and Governance provides the structures and skills for each of the above characteristics with attention to ongoing practice and enforcement (the "rubber meets the road" in execution over time) - and joy.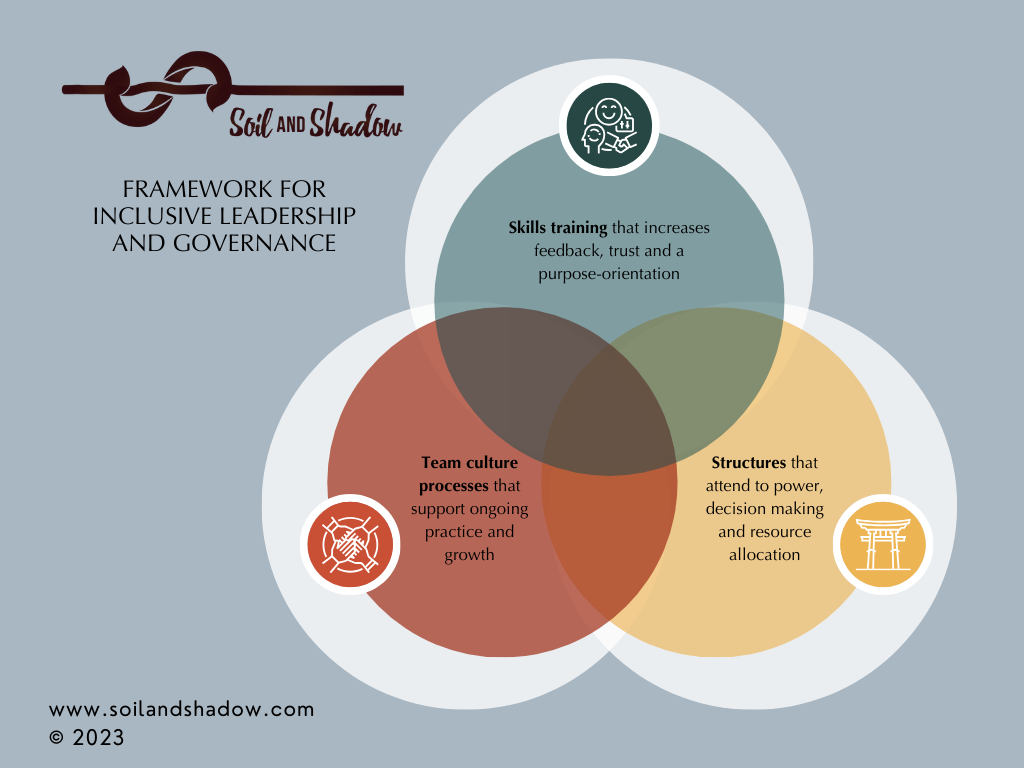 "I had the good fortune to work with Nikki, and walked away so impressed that I would recommend her to anyone looking for help tackling diversity, equity, and inclusion issues within their organization. Part of Nikki's brilliance is her understanding that organizational culture and program strategies can't be isolated. You have to tackle both, and she is absolutely capable of doing so. I would (and regularly do) recommend her to anyone hoping to take on this sort of work, whether in the NGO world, government, or the private sector."
Jacob Smith, Cedar Creek Strategies
Foundational Structures
Soil and Shadow has developed a 20 item checklist of the foundational structures that support the nexus of high performance and inclusion. Drawing from power building models, organizational development and living systems frameworks from ecological management, our unique approach to team culture and management provides our clients with an approach that balances long-term and short-term gains in productivity and mission.
In addition to the checklists, we have info sheets that cover key topics: inclusion benchmarks, inclusive decision-making, team culture agreements, and others that support our clients with implementing checklist items.
Team Culture Processes
We have modified the excellent diversity, equity and inclusion survey Paradigm developed in partnership with Survey Monkey to include an assessment of our four key characteristics (feedback, psychological safety, purpose and systemic discrimination) along with decision-making processes and adoption of team values. This acts as Soil and Shadow's primary assessment tool with our clients, and sections of it become the bi-annual and monthly surveys our clients use to perform regular "pulse checks" on team culture.
Skills Training
The primary skills upon which we focus in training relate to five professional development areas we have identified as vital to the nexus of high performance and inclusion:
Listening skills allow us to build trust and communicate effectively across cultural differences.
The stronger a team's ability to give, receive and integrate feedback, the more effectively they can collaboratively and equitably prototype ideas to reach common goals.
Conflict navigation is inevitable when in a team environment, and general conflicts are exacerbated when issues of race, gender, socio-economic background, sexual orientation, etc add complexity to a tense dynamic.
The ability to recognize and confront your biases requires personal reflection and mindfulness with self above all.
Trainings include an introduction to our structural checklists and info sheets, suggested engagement survey process, our step-by-step recommended implementation plan for the Framework for Inclusive Leadership and Governance, skills labs for embodied practice with role-playing exercises for practical application to real scenarios, and space for reflection and the development of action plans for integration.
Schedule a free consultation so you can have these results in your company too:
Before we began working with Nikki, we were dealing with a lack of trust, cohesion and effective communication within the organization. It felt like the quote on the definition of insanity. "Doing the same thing over and over again, but expecting different results."
Nikki was the difference. Her communication style broke through the noise. There were a few folks on our team that just needed to hear it from someone like her before they had their 'aha' moment. Our other consultants didn't have the human touch. They were too consultanty. =)
I'm so grateful that Nikki does this work. The way in which she conducts herself is graceful, true and intelligent. It was truly a pleasure to work with her and learn from her, and my original DEI goals were accomplished. Nikki's one of a kind and she's meant for this work.
Kelly O'Donnell, Oregon Tilth