ORGANIZATIONAL DEVELOPMENT + DIVERSITY AND INCLUSION FOR HIGH-PERFORMANCE TEAMS
In our 17 years of experience working at the intersection of social equity, ecological regeneration, and economic justice, we've noticed many organizations struggling with common problems in the realm of diversity, equity and inclusion (DEI).
Many organizations/initiatives/businesses don't know where to begin their journeys, so they decide upon a training as a starting point. However, many trainings are "out of the box" or only do a cursory scan of the team's current understandings/worldviews, and it's easy to have trouble meeting each team member "where they are".
Solving this problem usually involves a full "equity audit", where an organization/business/initiative would engage a consultant or firm to comprehensively assess their system and team. However - these can be prohibitively extensive and expensive for many teams, especially ones who wish to engage DEI in an introductory way.
Both trainings and assessments can produce an overwhelming amount of information, that bypasses individual and team capacity for thoughtfulness of follow up and action.
Much of what organizations encounter as internal DEI struggles or seek to learn as DEI content would be better addressed as leadership, team and organizational development. Unfortunately, many DEI trainings do not address these topics. Thus, teams leave with a solid understanding of historical/systemic oppression without the ability to practically apply this learning to their internal systems.
Our team has encountered some of these very same problems in our own client work, and after years of tinkering, we have developed an Inclusive Leadership, Team and Organizational Development Assessment + Training.
"I had the good fortune to work with Nikki, and walked away so impressed that I would recommend her to anyone looking for help tackling diversity, equity, and inclusion issues within their organization. Part of Nikki's brilliance is her understanding that organizational culture and program strategies can't be isolated. You have to tackle both, and she is absolutely capable of doing so. I would (and regularly do) recommend her to anyone hoping to take on this sort of work, whether in the NGO world, government, or the private sector."
Jacob Smith, Cedar Creek Strategies
Our whole system approach (the Social Fertility Framework), inspired by principles of building soil health, addresses DEI strategy through the lens of individuals, their relationships as a team, how those relationships inform company culture and procedures, and how that culture influences their customers and constituents. This weaving of education about systemic oppression, power analysis, racism, and other content with more general leadership, team and organizational development supports a holistic approach.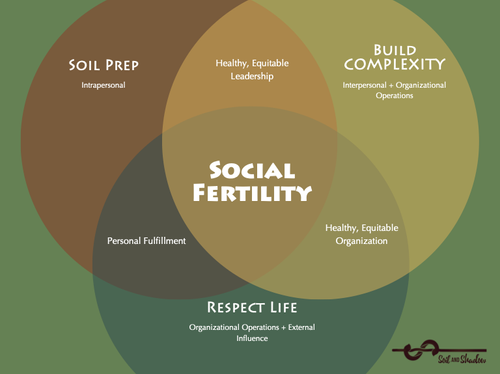 This package includes:
A condensed version of our full assessment, to be offered to your staff team + Board of Directors, covering the following areas:
Leadership Capacity
Team demographic information (the assessment will include a summary of demographic diversity, but ways that individuals identify will be held confidentially)
Personal terminology knowledge
Personal approach to conflict
Personal approach to mindfulness
Leadership Skills related to emotional intelligence
Systems Capacity
Internal Vision and Values
Internal Power Dynamics
Hiring and Onboarding
Management and Feedback
Decision-Making
Meetings
Conflict
Organizational Culture (General)
Organizational Culture (Inclusion)
Strategic Capacity
Power Analysis
Application of Power Analysis
DEI Strategy and Goals
A 2 hour training where our team will:
Review the results of your assessment
Provide a 90 day + 12 month set of recommendations
Offer specific training your team needs to effectively accomplish the 90 day plan
Review the Soil and Shadow recorded training units most appropriate as follow up for support on the 12 month plan.
FREQUENTLY ASKED QUESTIONS
What's the difference between this package and a full "equity audit", or your full assessment?
The full audit/assessment process gives you access to everything in the above package, including:
A hands-on process with your organization that merges Soil and Shadow's Social Fertility Framework with your specific goals and needs.
The ability to survey audiences other than your staff and Board of Directors. This can include your clients, funders, partner organizations, etc.
Interviews of your chosen audiences in addition to the surveys.
An assessment of any potential serious risks to organizational health based upon uncomfortable incidents, overwhelm, and attention to personal responsibility.
A living analysis document of your specific DEI context with a facilitation guide for revising it quarterly.
A 3 year plan with a suite of short, medium and long term recommendations
Schedule a free consultation so you can have these results in your company too:
Before we began working with Nikki, we were dealing with a lack of trust, cohesion and effective communication within the organization. It felt like the quote on the definition of insanity. "Doing the same thing over and over again, but expecting different results."
Nikki was the difference. Her communication style broke through the noise. There were a few folks on our team that just needed to hear it from someone like her before they had their 'aha' moment. Our other consultants didn't have the human touch. They were too consultanty. =)
I'm so grateful that Nikki does this work. The way in which she conducts herself is graceful, true and intelligent. It was truly a pleasure to work with her and learn from her, and my original DEI goals were accomplished. Nikki's one of a kind and she's meant for this work.
Kelly O'Donnell, Oregon Tilth