Announcing: Soil, Shadow and Spirit Retreat Series

Nikki Silvestri
Personal Check In: I just finished a 21ish day digital detox (the vlog explains the "ish" 😅). I learned: 1) I must have an accountability group for it to be successful (if you're interested in detoxing with me next time, reply to this email and let me know) and 2) I must add more behaviors that replace the digital behaviors. Good stuff.
In today's vlog, I share something I'm tremendously excited about: the Soil, Shadow and Spirit Retreat Series.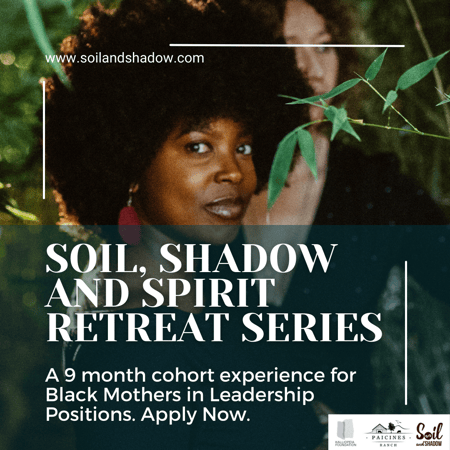 The retreat series is the next evolution of our partnership with the Paicines Ranch Learning Center and the Kalliopeia Foundation. We're convening a 9 month cohort of mothers (mostly Black) who have leadership experience, during three retreats (September, January and March) at Paicines Ranch.
Here's a few excerpts from the website so you get a sense of our itinerary:
Community Practice: Land Ritual
For us, "ritual" will emerge from our inner wisdom about making everyday acts sacred. It could be the shelling of peas together in a field. It could be silent walks over a stream, whispering our prayers into the flow. It could be contributing to the current flow of animals and microbes, supporting the land to clear blockages where they may exist, and supporting ourselves to clear energetic blockages where they may live. We may leave sculptural artifacts that continue the flow of energy and land resources after we depart that others can enjoy and to which others can contribute. We may enjoy a fermented beverage ritual in the vineyard ;)
Community Practice: Creative Expression
Inspired by the work of Augusto Boal's Theater of the Oppressed and Rainbow of Desires, we will create theater space together, using techniques of improvisational scene study, image sculpting and collective image building, forum theater, ritual gesture, "cops in the head" and other games from within the Boal praxis and beyond.
We use theater to explore our relationships with ourselves and one another. We are witnessing our shadows and how we show up as oppressed and oppressors. We are engaging the soil and natural elements by bringing them to life as characters with which to play inside the sacred theater space.
We will ask you to bring stories you want to explore. Circumstances with which you want to work out new outcomes. Situations where you'd like to explore the "why" of how something turned out or your role in both your victories and valleys.
Community Practice: Shadow Work
This gathering investigates the relationship between radical personal responsibility, feminine power, histories of oppression, "Blackness," and deliberate disorientation with our existing identity categories.
As Black womxn: where in our lives have we had power and seen our shadows acting upon our behaviors in ways that impacted those we were responsible for? How can we engage this community of practice as an experience of radical attention to our shadows, an opportunity to work with the shadow of whiteness, of the United States, of colonialism?
Attendees of this gathering will have experience in leadership positions and be prepared to investigate the complexities of power. How has your shadow work interacted with the conundrums involved with decision-making, resource management, and people management? Where have you felt your values being impacted by the destabilizing force of holding power in a pressured environment? How does a non-duality practice support us with holding power as individuals with histories of cultural oppression?
If you're intrigued, and you're a Black mother in a leadership position (or who's held a leadership position in the past), please do apply.
If you're intrigued and you occupy a different demographic, reply to this email and let me know. There's another leadership development opportunity coming this Fall and I'll go ahead and add you to the waitlist.